COVID-19 cases in Cincinnati and Hamilton County are spiking. As the pandemic continues to spread, Ohio Valley Voices has developed a plan to protect the health and safety of students, teachers, their families, and the entire OVV community.
Four Southwest Ohio counties — Butler, Clermont, Hamilton, and Warren — have reported their highest rates of new cases since the pandemic began. All four counties are in the red category, which is the second-to-worst level for COVID-19 risk.
"We promised our families, if there was an outbreak of COVID-19 on our campus, we would immediately shut down the facility," remarks OVV Executive Director Maria Sentelik. OVV leadership acted accordingly when one of the staff showed symptoms. The school reopened several weeks later with a more comprehensive plan for the entire school complex.
The COVID-19 safety plan outlines cleaning and sanitizing procedures, wearing personal protective equipment, classroom size, student interaction, and staffing. Only essential personnel are on-site, with most support staff functions located offsite. "The building's core occupants are the students, their teachers, the speech therapists, and cleaning staff," continues Maria. "We found we could operate effectively, even with part of the staff working from home."
OVV has a plan to isolate infected personnel and students, if necessary, so visual learning can continue. "Deaf and hard-of-hearing children learn best when they can see their teacher, she adds.
The staff uses Zoom meetings to stay connected. Weekly staff meetings, and in some cases, daily calls, keep everyone up-to-date. Visitors, as well as the staff who can work offsite, are discouraged from entering the facilities. Employees and children continue to be screened each time they enter the building. Masks and safety shields continue to be worn.
"Our goal is to prevent COVID-19 on our campus," says Maria. The health of our staff and the children and their families remain our top priority. If families want to know more about OVV's COVID-19 safety protocols, they can call 513-791-1458.
Sign up for Email from OVV
For Email Newsletters you can trust
Kroger Community Rewards
Did you know you could raise money for Ohio Valley Voices, just by shopping at Kroger?
Read More
Amazon Smile
Did you know you could raise money for Ohio Valley Voices, just by shopping on Amazon?
Get Started Now!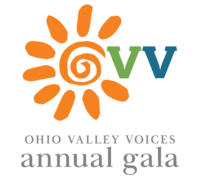 OVV Annual Gala
The 14th Annual Gala will be held February XX, 2021 at Paul Brown Stadium to celebrate our current and alumni ALL STARS.
Buy Tickets!