OVV is an early intervention program that teaches children with hearing loss to listen and talk through the use of hearing aids and cochlear implants. We believe that all children have the right to reach their fullest potential. Our mission to provide every OVV child with a language-enriched environment and the tools to talk to lead to a bright future.
We are one of the top early intervention and educational programs in the nation. We serve children who are deaf or hard of hearing (D/HH) from birth to eight years old. Our curriculum is designed to provide a comfortable, loving environment that fosters confidence and a life-long love of learning through talking.
We are more than a program. Our children become a member of our family.
Once you come through our doors, we call it "the walk." "The walk" is the moment when a new family walks through our building for the first time. We together hear laughter and voices of children who are D/HH.
Every family deserves a walk.
Thanks to the many contributors we are able to give families of deaf children hope.
Ohio Valley Voices is a 501c (3) organization. We rely on contributions to accomplish our mission: teaching deaf children to listen and speak.
In 1999, three families that had children with cochlear implants formed OVV. In 2000, Ohio Valley Voices opened its doors for the first time; serving children with hearing loss in the tri-state area. OVV became one of the first options for these families.
Since that time, over 200 children have graduated from our program. These children are thriving and have moved on to attend schools across the United States.
We are here because we have an unshakeable belief that children with hearing loss are capable of great things. Bringing these things to light takes work, dedication, and devotion, but it offers a child that is hearing impaired the best chance for a brilliant, productive life. Since 1999, Ohio Valley Voices has helped children in the Tri-State area communicate through listening and talking; forever changing their lives and the lives of their families. To us, every child and every spoken word is a gift.
Believe,
Maria
Maria Sentelik earned her Master of Science (MS) in Audiology from the University of Utah. She is a fellow of the American Academy of Audiology and is certified by the American Speech and Hearing Association. She has been the Executive Director of Ohio Valley Voices since its inception in 1999, Ms. Sentelik has vast experience working with children with hearing loss. She is passionate about empowering families to advocate for their children.
Nancy Creaghead – President
---
Jon Westerman – Vice President
---
Michael Wolf – Treasurer
---
Sandra Mills – Secretary
---
Dr. Thomas Fischer
---
Jody Johnson
---
Dr. Robert Keith
---
V. Ruth Klette
---
Kathleen Lutz
---
Caloway Puckett
---
Colleen Swanson
---
John Wild
The Governance Committee steers the Board of Trustees in its development of a strategic plan while also evaluating the Board's effectiveness. The Governance Committee searches for, interviews, votes on, and onboards new candidates for the Board.
Members: Kathleen Lutz (Chair), Caloway Puckett, Colleen Swanson, and Jon Westerman.
The Finance Committee is responsible for reviewing the overall planning of all financial matters at Ohio Valley Voices including investments, capital expenditures, budgets, and appropriations, and makes recommendations to the Board of Trustees with respect thereto.
Members: Michael Wolf (Chair), John Caulfield, Sandra Mills, and Jon Westerman.
The Development Committee assists staff in developing a strategic plan for fundraising and marketing for Ohio Valley Voices and updates the Board of Trustees on the progress of the strategic plan. It sets fundraising and marketing goals, establishes strategies for successfully raising funds, recruits and assigns volunteers needed in the process, monitors the success of fundraising activities throughout the year, and requests Board assistance as needed.
Members: V. Ruth Klette (Chair), Dr. Thomas Fischer, Jody Johnson, Dr. Robert Keith, Andrew Sweeny, and Jack Wild.
Working under the direction of the Development Committee, the Marketing Committee provides oversight and guidance for all promotion and marketing strategies with the goal of increasing awareness of Ohio Valley Voices and its mission.
Members: Laura Carr, Jody Johnson, and Anjali Narayanan .
Building and Grounds Committee
The Building and Grounds Committee is responsible for determining all maintenance and security needs for the interior and exterior of the school property and coordinating with the Finance Committee to ensure these projects are budgeted.
Members: Jack Wild (Chair) and Caloway Puckett.
Kroger Community Rewards
Did you know you could raise money for Ohio Valley Voices, just by shopping at Kroger?
Read More
Amazon Smile
Did you know you could raise money for Ohio Valley Voices, just by shopping on Amazon?
Get Started Now!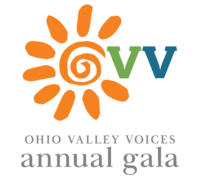 OVV Annual Gala
The 14th Annual Gala will be held virtually this year, streaming LIVE
March 6, 2021.
Learn More