A native of Akron, Ohio, Danielle Simmons received her bachelor's and master's degrees from Kent State University in Speech Language Pathology. Upon graduating in 2015, Danielle began her journey at Ohio Valley Voices in the Discovery Center as a Listening and Spoken Language Provider (LSLP).
While in graduate school, Danielle had become increasingly interested in deaf education. At that point, she had little experience working with individuals with hearing loss, so she sought out opportunities to learn more. As graduation neared, Danielle began job searching and found an ad for a position at OVV. Danielle was immediately inspired by the organization and, to her relief, OVV was hiring.
Danielle interviewed with OVV Executive Director Maria Sentelik, who gave her a tour of the school. Reflecting on her initial visit, Danielle says, "I was surprised to see how well all the children communicated. It opened my eyes to a whole new realm of possibilities for children with hearing loss." She knew she was ready to take the next step in her professional career by applying her skills at OVV.
Danielle was hired quickly thereafter, and she has played a integral role at Ohio Valley Voices ever since. After joining OVV, she worked for six years as an LSLP, spending time in both the Discovery and Learning Centers, before transitioning into the role of Exploring Center Coordinator.
As the Exploring Center coordinator, Danielle's responsibilities have changed slightly. She now supports the Exploring Center staff by observing students and by sharing their progress with their families. She is also responsible for assisting with parent education sessions so that parents can support their child's development at home.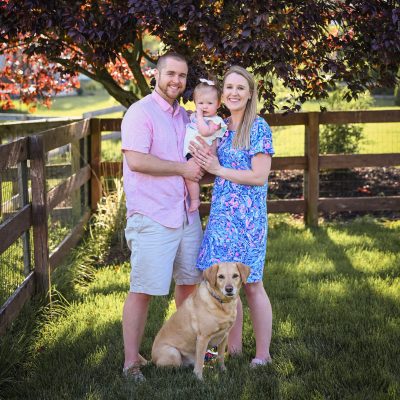 Working at OVV is not without its challenges, however. Danielle says the most trying part of her career came during the pandemic. "We had to transition to virtual learning when COVID started," she explains "It was a huge change for the OVV staff, but we came together as a team and were able to collaborate to continue services for our students."
Nevertheless, the joys of working at Ohio Valley Voices far outweigh the challenges. According to Danielle, "The most rewarding aspect of working at OVV is seeing each student's progress and how proud their teachers and LSLPs are of them." She is particularly moved by the annual graduation ceremony, where the entire OVV community gather to celebrate the students' hard-won accomplishments.
In her free time, Danielle keeps busy with her husband of almost four years, Chad. They have their hands full raising their daughter, Norah, who turns one in June, and their "fur baby," Levi, a six-year-old yellow lab mix. Danielle also enjoys spending time with family and friends, crafting, reading, working out, and traveling.
Danielle encourages others to get involved with Ohio Valley Voices. "OVV is such a unique setting that allows children with hearing loss to become strong communicators," she says. "The families and staff are so dedicated to each child." To her, OVV is proof of the magic that's possible when people work together to achieve a common goal. "Who wouldn't want to be a part of that?" she asks.